Welcome to the Bollins Racing Website
With round 4 of the Australian Formula Powerboat Grand Prix done and dusted the team is looking forward to the Topend Sprint on the mighty Hawkesbury river. Tim has attempted this race 2 times previously finishing under 11 minutes both times, however with the news that this will be TIM'S FINAL RACE the team has got together and put something special together for the weekend. Tim is hoping for a sub 10 minute run, so get yourself out to the river and cheer him on.
The Topend Sprint will be run on the 26th of August 2012 starting at Sackville Ski Gardens finishing at the one and only Upper Hawkesbury Power Boat Club at Windsor, what better place to finish the end of a great career, but the very place it all started back in April 1988.
Rnd 4 - Port Macquarie 28th & 29th of July 2012
The final round of the 2012 AFPGP was at Port Macquarie, and after a successful weekend prior at St George, the Watersports Marine team was looking forward to seeing if the success would keep going and also finishing off the year on a high.
Saturday arrived and the wind was already up making the water conditions slightly rough (which we favour). Drivers briefing done it was time to practice. Our first session began and we went out with one set up, completed a few laps and then returned to the bank, put on another set up and went out again and did more laps, with Sarah on the radios letting Tim know when to head in he came in for one final set up change and now it was time to see what would work the best. Back in the pits Tim analysed the data to work out where he was quickest and what would be the best set up for the "Hot lap" qualifying which was to follow, but after going over the boat he noticed that is wasn't as responsive as normal. Looking over the electrics, and seeing some damage he decided to re-wire the entire electrics to be sure that he eliminated the problem and was hoping to get this done before qualifying started, but as we waited for the other classes to finish the wind conditions worsened and after much deliberation by the race committee the days racing was cancelled, which meant Sunday was going to be a tight schedule. So the team packed up and looked forward to Sunday. (Read More...........)
U.H.P.B.C - 26/06/2011 2ltr vs 2.5ltr vs 6ltr
Feature Video's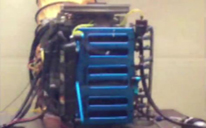 2.5ltr F1 Dyno Tuning

Unlimited Outboard - Race 1
Unlimited Outboard - Race 2
Unlimited Outboard - Race 3
Unlimited Outboard - Race 4
Unlimited Outboard - Race 5
U.H.P.B.C Spectacular 17 & 18/09/2011